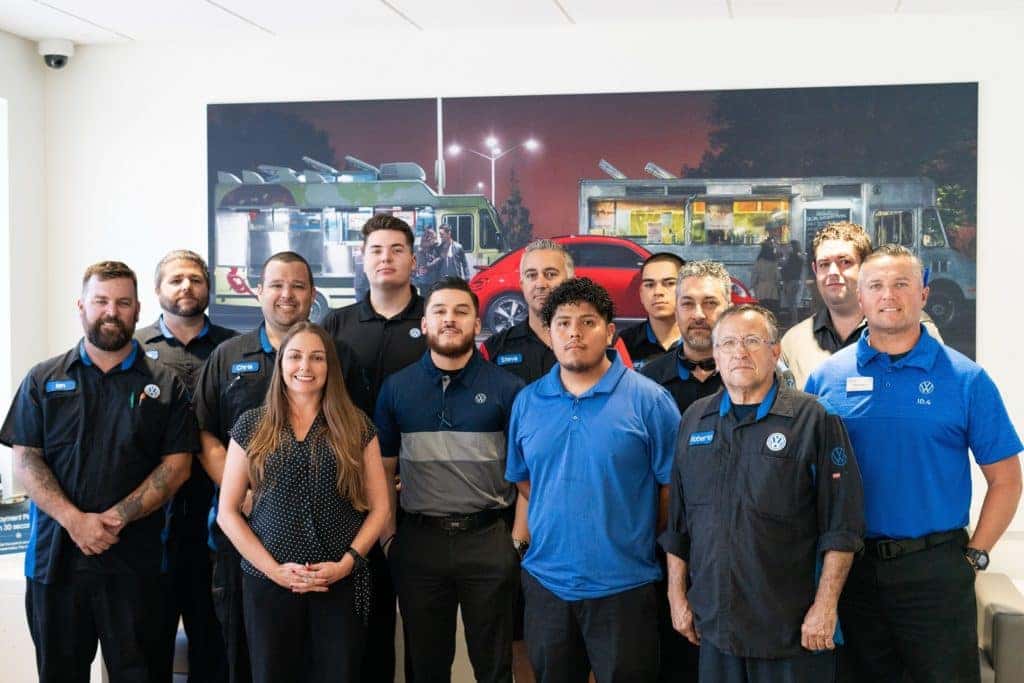 We have a team of qualified service technicians standing by to help you with any of your service related needs. From oil changes, tire rotations, brake pads or transmission problems, we've got trained technicians who are able to help. We can also assist you with all your service-related questions, like "how do I reset my check engine light".Please use the buttons below to schedule service at our dealership or contact our Service Department. You can also call us at (855) 315-7231.
Volkswagen Dealership Service Center in Santa Ana
You're not going to trust your VW vehicle to just anybody. Trust it with the experts who have been trained to maintain the finely tuned engineering under the hood of your car. Maybe that's why customers all the way from Orange to have their cars serviced at our Volkswagen dealership service. We're the place to go for all of your service needs in Santa Ana: tires, brakes, oil changes, you name it. Depend on us to help you with your Volkswagen service schedule.
Why Trust Our Volkswagen Dealership Service
There are plenty of reasons to trust your automobile with the Volkswagen dealership service at Volkswagen South Coast in Santa Ana. Tires? We've got you covered. You need a tune-up? No problem. You want to know why your car is making that strange noise? There isn't a noise we haven't heard before. Here are some reasons why you should trust your car with us:
We use only OEM parts.
Our techs are all highly-trained to properly care for your VW automobile.
The Volkswagen Care plans make it easy for you to maintain your Volkswagen service schedule.
Our service offers help you save on repair and maintenance.
You can easily schedule service and even pay online.
We have upfront, fixed prices, so you know what you're in for.
Keeping Up with Your Volkswagen Service Schedule is Important
It's crucial to the long life of your vehicle to keep it well-maintained. After all, we want you to be safe while driving on our roads in Santa Ana. Tires wear out and need to be replaced. So do brakes. Belts, hoses, and spark plugs will all wear out eventually. The goal is to keep it from happening while you're driving. Keeping a proper maintenance schedule can help you with that. And if you sign up for one of our Volkswagen Care plans, those appointments will be pre-scheduled for you.
Schedule Your Service Appointment Today
Customers from Costa Mesa to Irvine and beyond trust us to take care of their vehicles. So, should you. Schedule your appointment online now or contact us today!